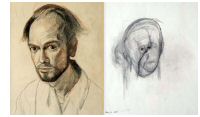 There's a short but fascinating piece in the New York Times on how the work of artist William Utermohlen was affected by the progression of Alzheimer's disease.
Utermohlen produced some striking pieces during his career and continued to paint after being diagnosed with the degenerative brain disorder.
The impact of the disorder on his creativity can be seen in a web slide show created to accompany the article.
It's particularly interesting that the impact of the paintings don't always seem to diminish with his reduction in technical skill, with some of the later paintings (particularly the one from 1998) remaining both vivid and haunting.
Link to NYT article 'Self-Portraits Chronicle a Descent Into Alzheimer'Äôs'.
Link to William Utermohlen gallery.
Link to information on Alzheimer's disease.