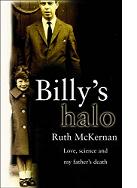 Neuroscientist Ruth McKernan was a guest on Radio 4's midweek this morning, talking about her father's death from a mystery illness, and how her scientific background shaped her coping and grief, an experience she has described in her book Billy's Halo. Here's an excerpt from the book's synopsis:
Now, she tells the story of her father's last year as a collection of cutting-edge scientific themes – memory, consciousness, microbes, stem cells – like pearls strung together on the thread of her father's life. The result is an inspired blending of personal emotion, love and grief, with a crystal-clear scientific explanation of the way our brains and bodies work in sickness and in health.
Midweek's host Libby Purves commented that it was clear from McKernan's book that as she wrote about the emotional turmoil of her father's passing, she struggled not to take a scientific perspective. On the contrary, McKernan said she wanted to write an objective, factual account of what happened, but couldn't help her emotions from spilling over into her words.
Link to replay of Midweek on Radio 4 (McKernan was the second guest).
Link to Billy's Halo on Amazon.