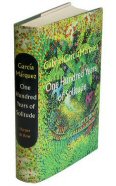 Neurology journal Brain has a fantastic article on the close parallels between the effects of semantic dementia, a degenerative brain disease that causes the loss of memory for the meaning of words and objects, and the novel A Hundred years of Solitude where a magical disease affects villagers' memory for 'the name and notion of things'.
The novel is by the Nobel-prize winning Colombian writer Gabriel García Márquez and is famous for founding the magical realism style of fiction where fantastical things seem to happen in an otherwise ordinary world.
What is interesting about One Hundred Years of Solitude is that while the memory loss closely resembles the effects of semantic dementia, it was written before the condition was recognised by neurology.
Unfortunately, the article isn't available online but this an excerpt from the article which captures the main themes:
In One Hundred Years of Solitude, García Márquez created a literary depiction of collective semantic dementia before the syndrome was recognized in neurology. The memory plague section of the novel also provides an inspiring and human account of one town's fight against "the quicksand of forgetfulness".

Why does García Márquez envision a world in which people lose their ability to communicate the names of everyday things? He gives some insight into his use of magical realism in the opening lines of the novel, in which he describes the village of Macondo in its earliest days: "the world was so recent that many things lacked names, and in order to indicate them it was necessary to point". With this description, García Márquez implies that the ability to assign a name to an everyday object is a defining human achievement that has developed over time. In this light, the insomnia plague forces Macondo villagers into a primitive state by robbing them of their ability to remember "the name and notion of things".

Remarkably, García Márquez's probing investigation of the power of words and everyday names leads him to a striking literary enactment of the clinical syndrome of SD [semantic dementia] and the problems faced by SD patients. His fictional characters, just like the SD patients discussed here, are acutely aware of the "infinite possibilities of a loss of memory". Both patients and characters attempt to preserve semantic meaning in more permanent forms that are free from the devastating effects of a neurodegenerative process and a fantastical plague. As such, García Márquez achieves a masterful portrayal of SD not just in his description of the plague's ravaging effects on semantic knowledge, but even more vividly in his account of the affected people's ability to maintain hope through various coping strategies – to preserve their fragile self-identity in the pages of word lists and pocketbook diaries.

Link to PubMed entry for article.